Te Rongoā Ārai Mate Korona

The COVID-19 Vaccine
Aionuki, Aiorangi
Wellbeing of our People
Drive Through Vaccination
Mangere Town Center, 21 November, 10am - 3pm
Live DJ
275 Kai
Health Checks
Free Taxi Service - Call 0800 28 29 30
Kai and Vouchers are available on the day. A safe space to kōrero with whānau about vaccinations and what's right for you!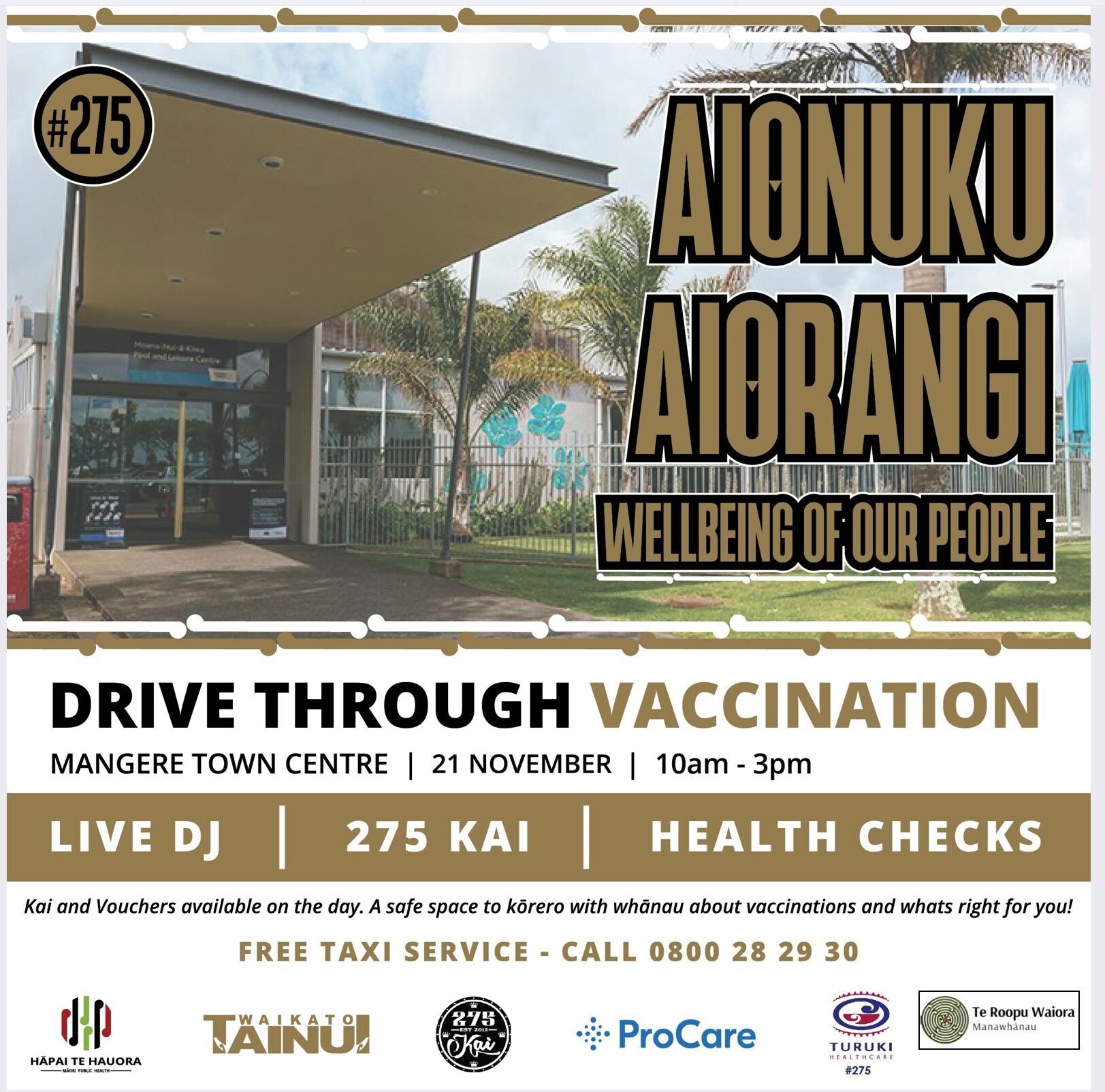 ---
The COVID-19 vaccination programme has started again.
Who can get the vaccine?
Essential workers and people 40 years old and over
Children 12 and over with their parents or caregivers consent.
On 25 August people 30 years old and over
In September everyone else in Aotearoa
You will get a text or email to:
Keep to your scheduled appointment or
Change your appointment
Book a vaccination at: Vaccination Bookings
Vaccination sites: Vaccination sites
Remember: Practise Alert Level 4 Rules
---
Whānau hauā and their carers who live in Tāmaki Makaurau region will get an email, text or letter to book an appointment. Go to the online booking system link below:
https://book.vaccine.covid19.health.nz
If you do not get a email, text or letter by the end of July, then call the:
Vaccination Helpline on 0800 28 29 26 to make an appointment or
Talk to your doctor or local chemist to find out if they are offering the COVID-19 vaccine or
check the website www.healthpoint.co.nz
Where to get the COVID-19 vaccine?

At the Vaccine centre whānau turi, whānau hauā who need assistance can register for support at the front desk. NZ Relay NZSL Interpreter Services are available.
Not all vaccine centres are accessible
Whānau who cannot leave home to get the COVID-19 vaccine can call
Vaccination Helpline on 0800 28 29 26 to register.